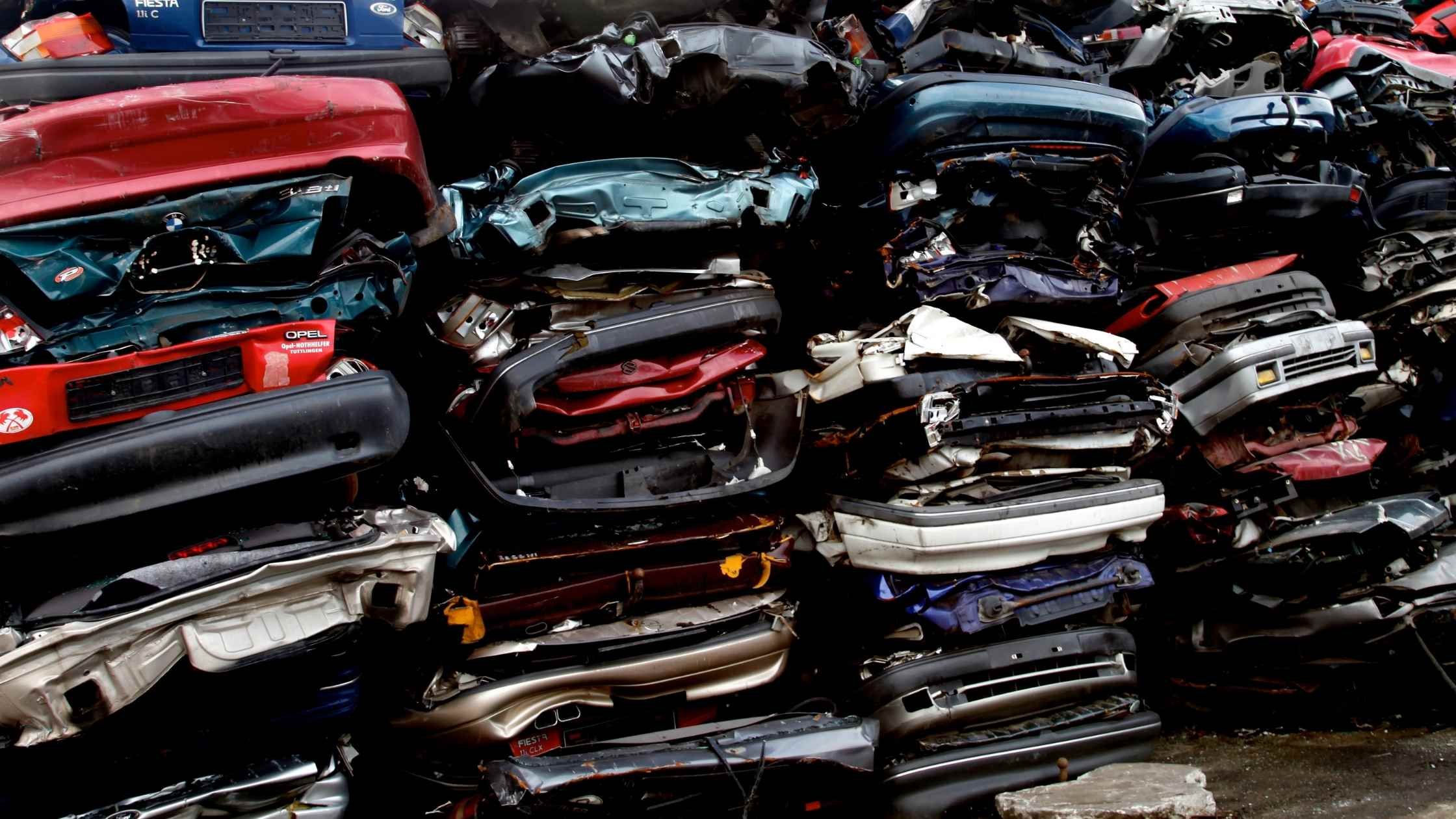 This is the first article in a 3 part review of trends in the Mobility market. The complete series can be found here.
The Mobility market has become a key sector for Approov deployment over the last few years. Therefore we thought it would be interesting to take a look at this market in detail, to understand its underlying forces and trends. This is the first of a series of 3 blog articles on the topic.
Last year, the global car market posted its sharpest decline in sales – by 3 million according to one study, 4 million according to another – since the financial crisis of the last decade. The worse news is that neither study predicts a quick return to normal growth any time soon. In fact, 2022 is the earliest estimate for a global recovery.
All this has reignited the "peak car" debate. From one perspective, car sales and ownership have peaked as urbanization and technology trends reduce the need for many of the 1.3 billion vehicles now on the road. From another, this is just a temporary slowdown that is part of the cyclical nature of auto sales.
Factors Affecting Auto Sales
There are a range of factors, both localized and systemic, that influence auto sector performance in key markets across the globe. Take China, for instance, the world's largest car market. Here, the car market is expected to decline for its third straight year as the country contends with both a weak economy and the fallout from its tariff war with the US. The UK, the second largest car market in the EU, posted its third consecutive year of decline in 2019. Here, however, a disproportionate fall in diesel vehicle sales (-21.8%) completely wiped out a modest increase (+2.2%) in demand for petrol cars to drag down overall sales performance by 2.4%. Meanwhile, the US fared relatively better with a stronger than anticipated performance that shifted just over 17 million vehicles in 2019 despite a 1.6% year-on-year decline.
Then there are systemic factors stemming from the intersection of changing consumer attitudes and preferences, and innovative technologies.
Technological innovations – in electric and autonomous vehicles (EVs and AVs), and car-sharing and ride-hailing services – are showing strong signs of completely reinventing personal mobility.
Reinventing Mobility
As the traditional auto market transitions away from the internal combustion engines to more environmentally friendly and sustainable alternatives, EVs are projected to comprise over half of all global passenger car sales by 2040. In 2019, however, the market share for this potentially disruptive segment stood at a trifling 1.7%. Similarly, AVs, a majority of which are expected to be battery-electric or hybrid, are either ten years or several decades away, depending on the optimism of the observer.
However, AVs could build up to a 70% share of all passenger cars in cities by 2035. These concepts are definitely greener than their fossil fuel counterparts and could lower the cost of personal transportation, thereby balancing the need for mobility with that of lower emissions. However, this could also trigger longer and more frequent trips and increase electricity consumption, which could actually increase greenhouse emissions. Currently, renewables account for just one-third of global power capacity.
A more immediate force for changing the nature of peak car demand would be a readily available alternative for mobility that precludes vehicle ownership. And that's where on-demand mobility services come into play. We'll explore that topic in the next article in this blog series.
Understanding On-Demand Mobility
Nearly four in ten Americans already believe that transportation is necessary, but owning a vehicle is not. And the younger the generation, the stronger the conviction.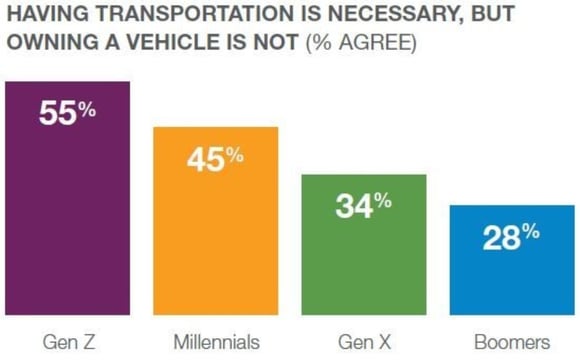 SOURCE: InvestorPlace
This conviction, especially among the younger generation, is often cited as evidence for declining ownership and, consequently, the rise of ride hailing services. But the reality that emerges from actual data is quite different.
According to a 2019 Millennials and Auto Trends Report, three-quarters of millennials already own cars. Over the next five years, 83% of owners expect to purchase another car, while 55% of non-owners plan to own or lease a car. Even in a market like China, with its dire sales projections, 92% expect to own at least one vehicle in the next five years.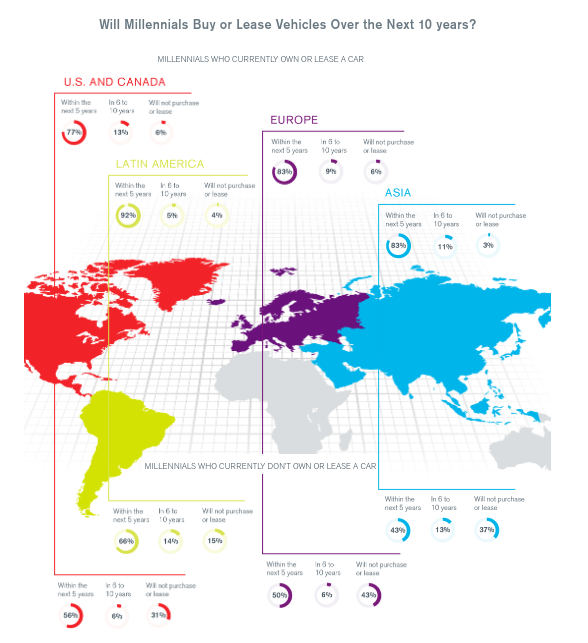 So, there is no causal link between age, or generation, and declining car ownership. In fact, a paper from MIT Sloan concluded that "while millennial vehicle ownership and use may be lower early on in life, lifetime vehicle use is likely to be greater."
Mobility behavior is determined by a complex interaction of variables including age, location (urban, suburban, rural, etc.), income, etc. These are the types of distinctions highlighted by a Pew Research Center US survey that showed that though ride-hailing use had increased across demographic groups, the likelihood of usage rises with education and income levels, and among urban/suburban residents.
SOURCE: Pew Research Center
So, is ride-hailing just for well-educated, high-income, urban millennials? One study from the University of Connecticut found trends that suggest otherwise.
The study analyzed and quantified usage patterns in New York City over a three-year period when ride-hailing growth in Manhattan levelled off even as ride-sourcing trips originating in the outer borough neighborhoods – home to minority, low-income, low car ownership residents – increased by 46%. The conclusion was that on-demand mobility was "filling the gap in public transit" at locations characterized by low car ownership and underserved by public transportation.
Conclusion
On-demand mobility is not an alternative or a substitute for either car ownership or for public transit services. That conclusion doesn't account for increasing traffic congestion in urban environments worldwide, nor does it explain the continued rising level of vehicle emissions. Neither is on-demand mobility solely about addressing the lifestyle choices of a narrowly defined population. It's much more complicated than that.
Services like ride-hailing and car sharing enable new mobility options that allow consumers to optimize their travel patterns based on individual expectations of cost, convenience and efficiency. However, what is clear is that as these on-demand and shared models combine with technological innovations in the form of AVs and EVs, they will inevitably have a transformative impact on conventional automotive value chains. And that's what we will address in our next article in this series.